For Installation at the Service Entrance. Compare clamping voltage and surge current. Greater performance is always worth a little extra expense.
LA 302R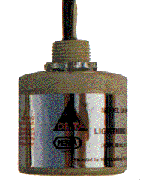 Weatherproof Enclosure N-4
CASE DIMENSIONS:
2-1/4" Diameter
2-1/4" High

125/250 Volts: Single Phase
Surge Current: 60,000 A
Joules: 2,000 per Pole
Operations: No Limit
Leak Current: None
Leads: 18" #12 AWG

This unit is designed for service such as single phase commercial and residential entrance panels.
Whole House Protection
INSTALLATION:
Fasten arrestor in place. Use a Delta mounting bracket, part # MB, a pipe strap, or a knockout hole. Connect the black wires to the hot lines at any convenience point load-side of an existing fuse or circuit breaker. Connect the white wire to an existing ground system, the grounded metal frame work of the equipment to be protected, or make a ground source per NEC Article 250.
CA 302R

Weatherproof Enclosure N-4
Case DIMENSIONS:
2-1/4" Diameter
4-1/2" High

125/250Volt, Single Phase Surge Capacitor to be used where additional protection is needed.
INSTALLATION:
Connect the black wires below the fuses or breaker. Connect the white wire to the ground and/or neutral bus.
TA 304
Weatherproof Enclosure N-4
Case DIMENSIONS:
5.2" Diameter
1.9" High

Two Pair, data line circuit protector w/separate ground.
Unlimited number of surges.
Max. Energy: 750 Joules per Line
Response Time: 5 Nanoseconds
Leads: 15" #22 SOL
Telephone/Modem protection
INSTALLATION:
This device is to be wired in parallel to the telephone line or low voltage circuit. This can be done by punching down the AWG22 solid lead wires to a punch down block or by making a parallel connection to the screw terminal. All lead wires should be cut as short as possible. This device is non-polar. Double-sided adhesive tape is provided for securing the device to any surface. Connect the green ground wire on the unit to a physical ground. Use only 1 ground point per system. Solder all ground connections whenever possible. Run ground wire in the shortest path towards earth. The protector is rate 230VDC.
Shipping amounts posted are for shipping within the contiguous U.S. only. Please call for freight costs outside the contiguous U.S.